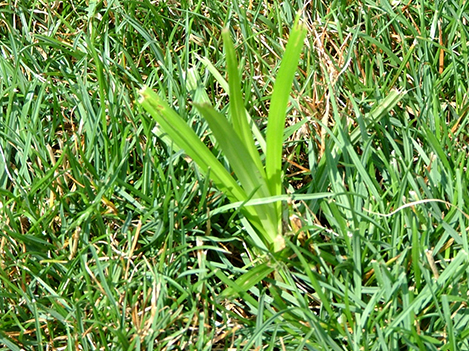 Nutsedge is a common weed found in many home lawns and other turf grass areas in the United States. There are many different types of Nutsedges, however Yellow and Purple Nutsedge are the most common turf pests.
Weed Man North Dallas Fort Worth can help control Nutsedge in your lawn. Here's how:
The key to managing yellow and purple Nutsedge is limiting the amount of tubers and their production. Removal by hand is not recommended as the clay soil in North Texas will not allow you to remove the entire plant's tubular structure, causing it to produce 2-3 more plants to replace the one you pulled. Treating the plant while actively growing with a special herbicide is the most effective way to eradicate the plant.

Additionally, improper watering practices will exacerbate the problem. One of the most common mistakes with an irrigation system is operating it during periods of the year when rainfall is regularly occurring. The sprinkler system is there to water the lawn and landscape when rainfall is not regularly occurring, typically from as early as May to as late as the end of September.  All other months of the year do not usually require you to operate the irrigation system. The general rule of thumb is turn the system on in the spring ONLY after no rain has occurred for a week and no rain is in the upcoming forecast.  Then turn the system off in September as soon as rainfall returns. This will not only help reduce Nutsedge significantly, but will save you money on your water bill while also saving a precious resource.

Overwatering the lawn will also cause Nutsedge to flourish. Please follow our recommended Watering Instructions to properly program your sprinkler system to ensure a healthy lawn.
Nutsedges are a problem in the lawn because they grow faster, have a more upright growth habit, and are lighter green in color than most other grass species, resulting in a non-uniform lawn. They thrive in waterlogged soil and their presence often indicates that drainage is poor, irrigation is too frequent, or sprinklers are leaky. These grasses are difficult to identify and may appear as either Yellow or Purple Nutsedge.
Have questions? Because these perennial grasses are difficult to control, it's wise to consult with your local Weed Man North Dallas Fort Worth professional. We're here to help!